Accessibility & Lift Products
Types of Accessibility Products
Barrier Freedom Inc. sells and services all makes and models of Accessibility Products
---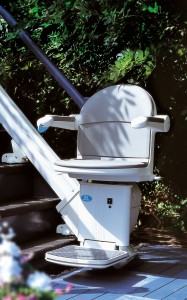 Barrier Freedom Inc. is your one-source supplier of all residential and commercial disability lift equipment. We are the experts on all lift equipment and have the flexibility to supply any lift that the client wants or needs given their circumstances.
We can provide all makes and models of stairlifts, porchlifts, vertical and inclined platform (wheelchair) lifts, elevators, patient lifts and dumb waiters.
---
---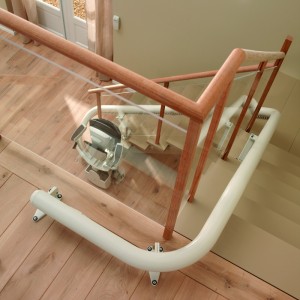 Stairlifts provide a relatively simple and cost effective way to make any home or office accessible. They are installed on the side of the staircase and fold up for minimal obstruction so that the stairs can be used by others.
Each stairlift has electric controls on the chair and a master shut-off switch mounted near the end of the stairlift for further safety. Stairlifts can be installed as straight or curved tracks tailored to the individual shape of each client's staircase.
The decision to buy a stairlift is often the key factor in determining whether a senior is able to stay in her home. It is the most popular choice in ensuring a senior's or disabled person's continued independence.
---
---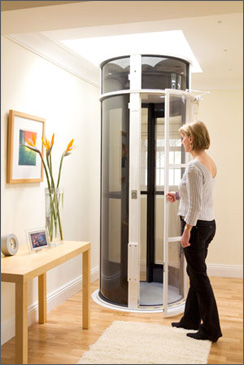 Elevators are an effective solution when there is the space or need for a vertical lift rather than an inclined stairlift. Disability elevators, as opposed to commercial elevators, are designed to move a disabled or wheel chaired person typically only two or three floors. The elevator is operated by a continuous pressure button and has numerous safety features.
The elevator to the left, lifts the flooring of the room above as it moves up. This innovative "vanishing" elevator travels on a guide rail system through a floor cut-out and requires minimal construction because no elevator hoist way is required for installation.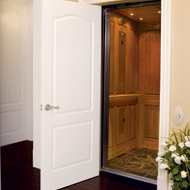 The elevator to the right is installed within the home either built into a corner or closet and looks like a typical elevator except smaller. These can be wood paneled and custom built to add beauty and value to the home. This elevator runs quietly on hydraulics and requires a separate machine room for the mechanics.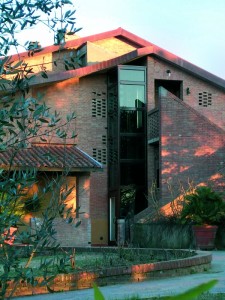 Barrier Freedom Inc.'s newest type of elevator is the Vacuum Elevator. The Vacuum Elevator has the simplest construction and takes up the least amount of space. Air lifts the platform for a smooth, quick ride going as many as four stops or floors to a maximum of 35 feet travel distance.
One of Barrier Freedom Inc.'s strengths is that we create solutions. We are one of only a few companies that can design and construct custom fittings for an elevator when a creative solution is required in a home or commercial location.
Barrier Freedom Inc. is one of the very few companies in Canada that can install an elevator of this complexity.
---
---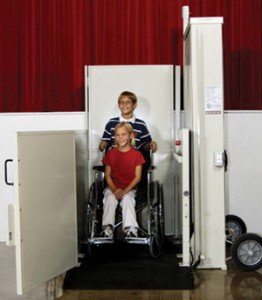 Platform lifts are vertical or inclined lifts that are designed to move a person in a wheel chair over or past a set of stairs.
The most common type of platform lift is the Porch Lift (image to left). The porch lift is designed for rugged, all weather exterior use and is sleek and functional in design. It is used to move a person in a wheel chair from the drive or walkway to the main floor outside door of the house. They are a very popular product and often the only solution to home access when a lengthy front door ramp is not feasible.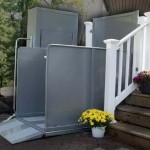 There are also vertical and inclined lifts for interior use in homes or offices. One example of an inclined lift (image to right) shows how it can be used over an existing set of stairs. When not in use it folds up unobtrusively against the wall. As with all disability lifts, unit operates with continuous pressure on a button and has numerous safety features.
---
Recycled Lifts
---
Barrier Freedom Inc. offers the option of recycled or on consignment lifts instead of new to customers looking for a stair lift, porch lift or elevator for their home or business. This can represent a significant cost saving to the customer and is the one for the ways that we strive to offer a variety of solution in order to better fit customer needs.
Please click here to go to our recycled lifts page.
---
---
Barrier Freedom can also assist you with a multitude of other accessibility items including:
Shuttle/Dumb Waiters
Hospital Beds
Bath lifts
Ceiling lifts
Automatic door openers just to name a few.